Customer Photos
Wood from WRTC has already lived a long and useful first life, and after it is salvaged and cleaned can live a long and useful second life as part of a new structure! Our wood is used in many different applications, from large specialty construction and restoration projects to individual boards. These are a few projects which have incorporated our reclaimed wood.
Whitewash Feature Wall
Rustic yet modern feature wall that one of our customers created using reclaimed whitewash barnboard T&G. This adds character and warmth to any space.
+ View Images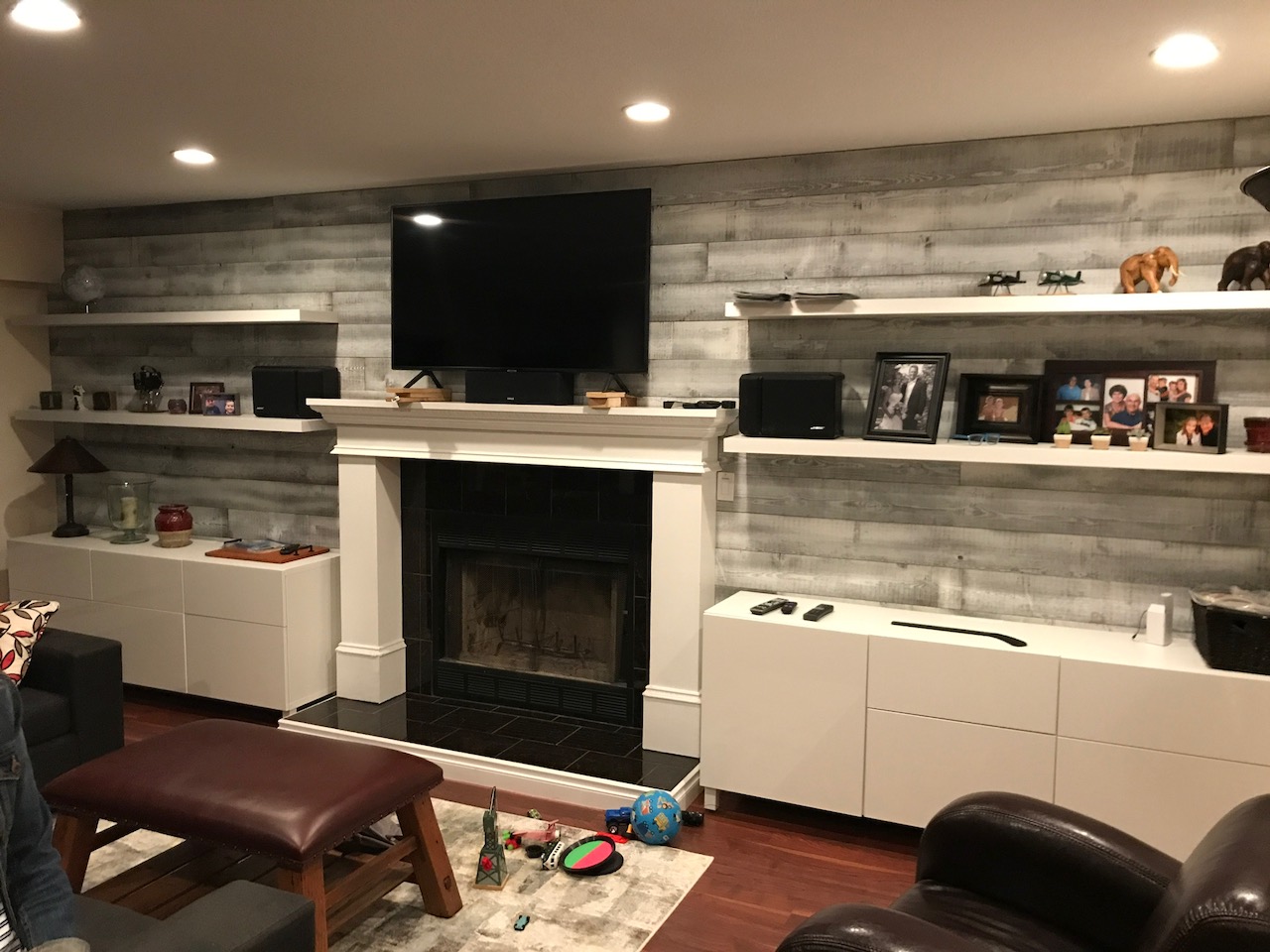 Reclaimed Feature Wall
A beautiful feature wall that one of our customers did using reclaimed snakewood barnboard. We gave this barnboard the nickname "snakewood" because it came from the BC interior where there are quite a few rattlesnakes and with the varied colours in the material it looked like a rattlesnakes hide.
+ View Images
Custom Table
A fantastic table that Kirk from At Home Rustic made using custom cut Douglas Fir 2.5" x 8.5" and some walnut Saicos hardwax to give it a nice finish.
+ View Images
Reclaimed Pine Bedframe
A beautiful bed frame built from a barn in Colorado by Adam Macer!
+ View Images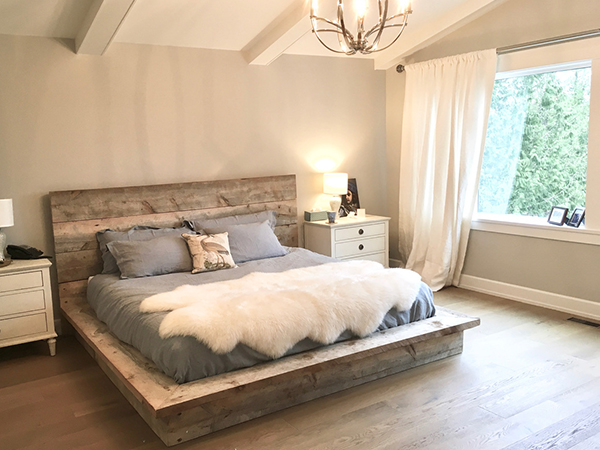 Reclaimed Beams - Darren King
Some lovely reclaimed 12x12 timbers went into this project! You can see more work by Darren King Woodworks here.
+ View Images
Custom bar
Beautiful custom bar that one of our customers made using reclaimed timber and custom cut glulam.
+ View Images
+ View Images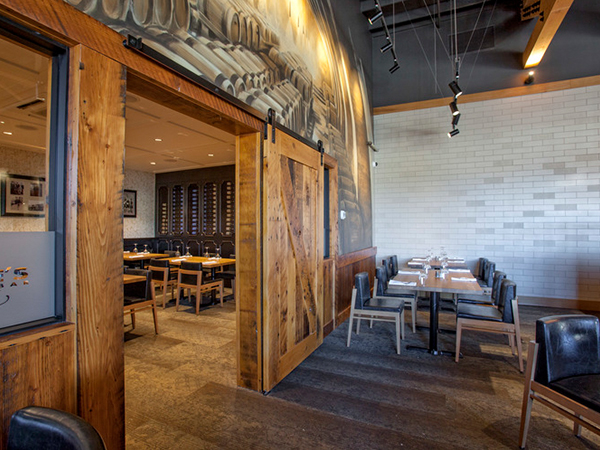 Reclaimed Countertop
RDC Fine Homes installed a beautiful reclaimed wood counter top, made from antique 3x15 Douglas fir that came from the seismic upgrading project at the Strathcona Elementary School in Vancouver.
+ View Images
Copper pipe and rustic wood
One of our incredible creative customers came to look for material for a shelving project, and this is what they came up with!
+ View Images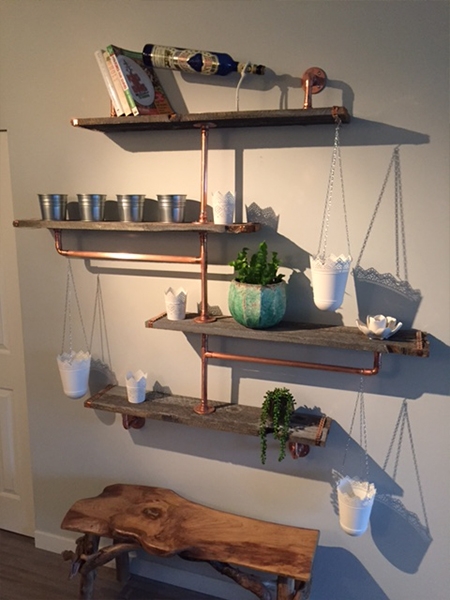 The Valhalla
Another great customer project... this would be a lovely and inviting harvest table to have dinner at! They named the table The Valhalla because they're fans of a tv show called the Vikings :)
+ View Images
Reclaimed Headboard
A lovely headboard from reclaimed wood, by one of our fabulous customers!
+ View Images
Proper Hair Lounge
A modern renovation of a hair salon on Dunsmuir St in Vancouver: The brown wood came from the Glenrose Cannery, and the painted wood came from the Western Forest Products Queensborough mill. Samuel Bligh chose this wood to create a vibrant, welcoming and uplifting atmosphere. You can see more photos of the space here: Proper Hair Lounge
+ View Images
Zipang Provisions Renovation by Wasabi Design Works
Wasabi Design Works recently renovated a restaurant space for Zipang Provisions, a Japanese/West Coast fusion restaurant in Vancouver, BC, and incorporated some fabulous timber into the design!
+ View Images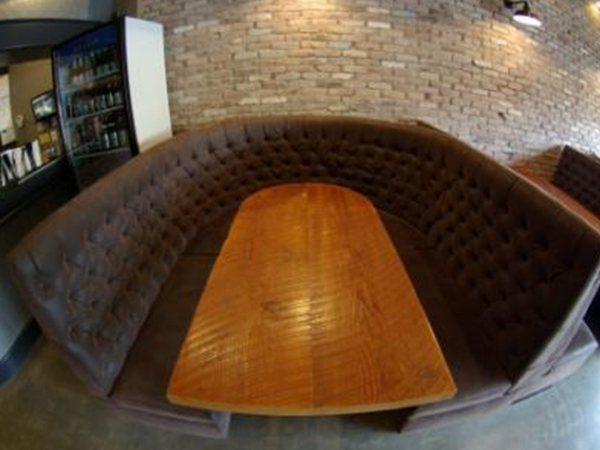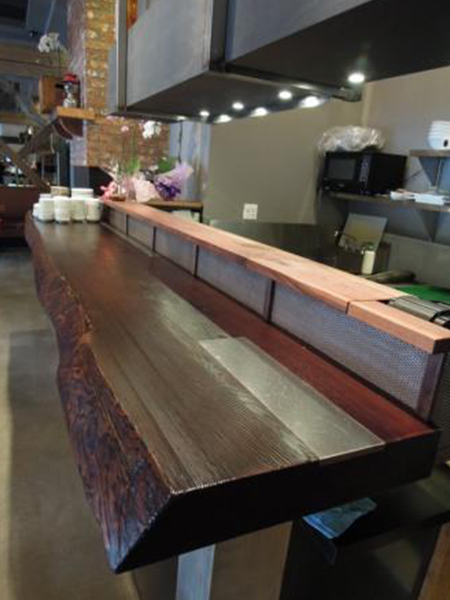 Home is wherever I'm with you...
Mike Lengyell built this beautiful headboard for his home, making great use of some contrasting types of barnboard.
+ View Images
Rustic Picture Frame
We participated in the Global Buyers Mission 2014 sponsored by BC Wood in Whistler in September 2014, and we were asked to donate something for the prize draw. Of course we had to find something that incorporated reclaimed, so we asked Shaun Bird (BirdmantheWelder.com) to make something out of our reclaimed wood for us. We sent him some of the painted barnboard material, and we got a fantastic rustic frame as a result!
+ View Images
Grey Barnboard Wall
Such a charming fireplace! Love how this turned out. Made by Concrete Lifestyles.
+ View Images
Reclaimed Bed Frame
It's great when we are able to see before and after pictures! What a beautiful bed frame made by Kevin Tilley.
+ View Images
Beautiful Barnboard Desk Fronts
Stunning reception desks fronted with rustic brown fir barnboard and silver grey fir barnboard!
+ View Images
Kitchen Shelves
These shelves add a lovely rustic touch to a modern kitchen!
+ View Images
+ View Images
Jim Hunt Furniture
The silver grey barn board adds a great touch to this bookshelf! You can see more work by Hunt Furniture here.
+ View Images
Antique Pipeline Shelving
Beautiful and creative; these shelves give our wood a second life!
+ View Images
Tyron Leitso Project
Here is a finished project from one of our customers using our barn board. Doesn't it look great!
+ View Images
Suspended Shelves at Zientte Interiors
Zientte Interiors, a home decor and furniture retailer, created these beautiful suspended shelves with reclaimed wood we supplied them. You can visit them at 18 Water St in Vancouver, or there is a virtual tour of their store available if you would like a closer look!
+ View Images
New Set Of Stairs
Lovely set of stairs one of our customers made for his daughter-in-law.
+ View Images
+ View Images
Wine room by Nexus
It always amazes me how some of our customers can take the old, beat-up looking pieces of wood and turn it into something fantastic... this is a wine room built by Nexus Construction. Photo courtesy of Nexus Construction
+ View Images
X Frame Harvest Table
One of our customers built this beautiful trestle table! Here's what he has to say: "Final dimensions (give or take an inch for finishing and bevelling) 64" long, 48" wide x 34 1/2" high. The thing has to be at least 300+ lbs! I made it so each surface plank can be removed...if needed. The x-frame legs are held together with lags and PL construction adhesive. The foot-rails are lagged but can be removed. I was able to completely construct it in the garage and bring it in the front door using U-haul straps, two people and a felt pad to slide it across the hardwood once inside. So far I have only finished the surface with a rub-on poly. It looks hand rubbed with oil but has polyurethane protection. The saw marks and sanding striations came out beautifully. The only wood on this thing that is not from your mill are the table top supports that top each "X". This was simple framing 2x12 lumber I laminated together, stained, and distressed. I went more of a creosote colour to contrast the fir. (i.e. railway ties, without the mess or stink).
The problem is now, I have people interested in me making them the same table."
+ View Images
Table by Mischa
Some fantastic rustic tables made by one of our customers. You can reach him at 778-240-4352 if you are interested in his work!
+ View Images
Concrete & Reclaimed Woodwards Fir Dining Table By MPF Ltd
A dramatic table using Woodwards timbers. W: 30'' L: 108''
+ View Images
+ View Images
Ebony floors...
Here is a beautiful example of the flooring, installed by the homeowners themselves and finished with the Saicos ebony stain and top coat.
+ View Images
+ View Images
Urban Outfitters
We supplied some timbers for stairs in a new Urban Outfitters store in Vancouver, BC.
+ View Images
A new house in Ontario...
A few in-progress photos of a lovely new house in Ontario, using some of the wood from BC Place and other BC wood.
+ View Images
Ravenswood
This house was built in Whistler, BC, using almost exclusively wood reclaimed by WRT. Ravenswood is an environmentally friendly timber frame house built in Whistler, BC. Almost all the wood used to build this house was salvaged by WRTC. The project was a 2004 finalist for a Georgie Award (Canadian Home Builder's Association of BC) for "Best Interior Design Custom Residence - New or Renovation". The interior finishings are all custom designed to fit the house.
+ View Images